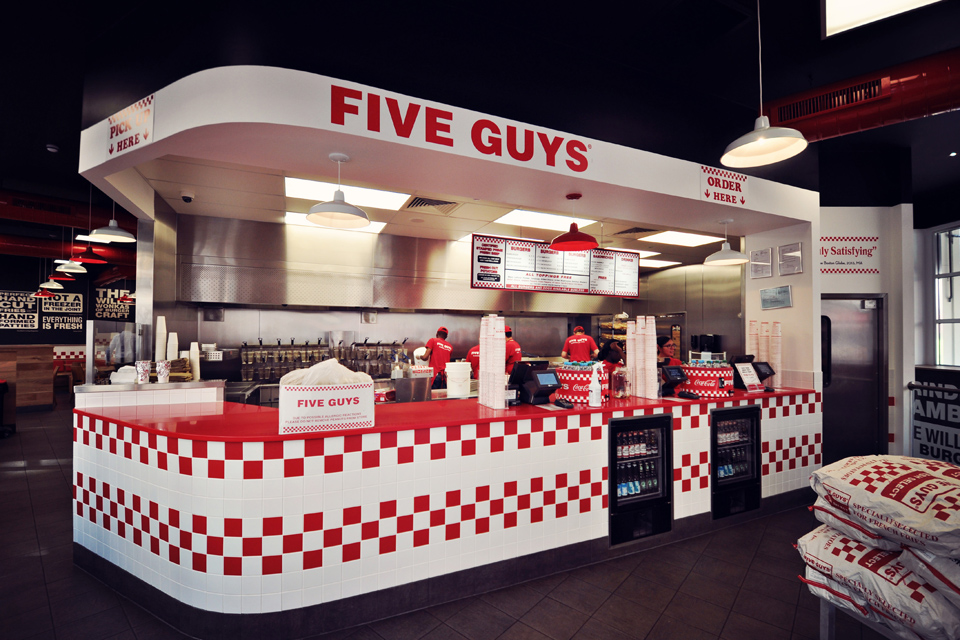 Fileturn has completed work on the latest opening of Five Guys American burger chain, in the Gunwharf Quays shopping centre in Portsmouth. The opening comes five years to the month after we provided the fit out for Five Guys' first UK outlet in Covent Garden.
Fileturn was engaged to transform a 300sq.m vacant leisure space at Gunwharf Quays into the latest incarnation of this hugely successful restaurant chain, which has grown to more than 80 sites in the UK (100 including Europe), with Fileturn providing the fit out of over half these sites.
Working to the distinctive Five Guys design, Fileturn received the site as a landlord shell and was responsible for all alterations and fitting out inclusive of all finishes, M&E, plumbing and HVAC installations.
The site, next to Hollywood Bowl on the upper floor of the complex, had a 6m ceiling height, which had to be lowered by installing a unique sub-grid at 4m, from which a false ceiling was suspended at 3.5m with services hidden above.
The fit out took 10 weeks to complete and was handed over on 6 July.
To mark the fifth anniversary of Five Guys' first UK opening, European Head of Construction & Design, Jonathan Cope, sent this message of thanks to all the companies that have contributed to the company's success:
Guys,

Today sees the 5th anniversary of our first store in Covent Garden, we have gone on to open over 100 stores in 4 different countries within those 5 years.
I truly believe this was made possible by the solid foundation you all gave us a Covent Garden along with all your hard work since then.
I just wanted to say a massive thank you to you all, you will always be the "originals", here's to the next 100!
Thanks again

Regards
Jonathan Cope | European Head of Construction & Design
Five Guys JV